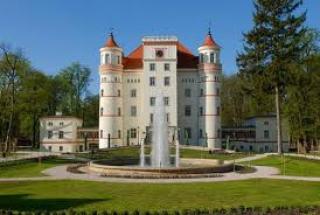 2nd Polish Interdisciplinary Symposium Inter-Mix 2014 was held on November 20-23, 2014 in Wojanów Palace, in Lower Silesia. The Symposium was organised by the Club and the Skills Programme of the Foundation for Polish Science. 
The aim of the Symposium was to establish a platform for interdisciplinary scientific exchange and networking.  The first edition of the Symposium, held in March 2013 in Pułtusk, received great reviews from the participants, therefore we decided to continue this initiative. This year we invited to Inter-Mix 2014:
biologists and physicians
chemisists
physicists
informaticians
engineers
mathematicians
astronomers
economists and social sciences researchers
who are not afraid to cross the boarders of their own disciplines and willing to combine different scientific approaches in their research.
The participants had an opportunity to present their research and share their experience in interdisciplinary projects either in a form of an oral presentation or a poster.
More information about the Inter-Mix 2014 Symposium can be found at its web page.